For Those seeking ways to expand and bring current their Spiritual Development.
INSPIRATIONAL UNITY = CREATIVE-SPIRITUAL CONSCIOUSNESS BUILDING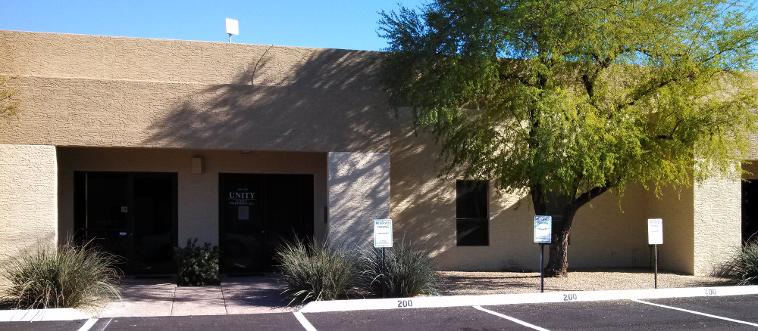 All Services, Classes and Special events are held at:
Inspirational Unity, #200, 7745 E Redfield Rd, Scottsdale 85260, 480 664-3681
(Thunderbird Road changes its name to Redfield Rd. East of Scottsdale Rd., in the Scottsdale Air Park)

SUNDAY SERVICE 10:30-11:30
Additional parking is available at the south ends of the buildings

SPIRITUAL EXPLORATIONS, Sat. Feb. 10, 1-3 PM - Rev. Sandy Kale

In the January Sunday Service, I shared an experience which changed the direction of myself and a ministry with which I was involved. The book mentioned was "MISSION SUCCESS" by Og Mandino. The book is delightful and informative. For our time together, I will share some highlights from the book, bring in some prints of THE HAND OF GOD and discuss how the principles can impact your life for the better. No need to read the book before Saturday if you are on a tight schedule. Don't let that keep you away. If you want to purchase the book it is available through Amazon or Thrift Books.com.
To hear Og Mandino discuss "SUCCESS" paste this URL in your browser: https://youtu.be/Gl1aBarzdzo

SUNDAY, (Adults only) SERVICE, Feb. 11, 10:30-11:30 AM - FIND YOUR PRAYER POWER (and use it) Rev. Sandy Kale
The source of Prayer Power is being One with with the Life Force. That means we have to work on ourselves in some way in order to activate our prayers. Sunday, we will explore exactly what that means and the steps to accomplish using our Power of Prayer.

All welcome. Fellowship after the Service.

- - - - - - - - - - - - - - - - - - - - - - - -

Please note:
The SUNDAY LESSON ON THE SECOND SUNDAY of each month is led by Rev. Sandra Kale. It is an ADULTS ONLY Service as there is no Sunday School

SUNDAY LESSONS ON THE FIRST, THIRD, FORTH (and some months 5th) SUNDAY of each month is led by Rev. Tina Brown. Children are invited to attend on these Sundays.
Please do not park in spaces 100 and 200 to the building west of us and space 600 at the south end of our building. These businesses work on Saturday and in some cases Sunday. Additional parking is available at the south ends of both buildings 7745 and 7734.
- - - - - - - - - - - - - - - - - - - -
FAMILY SUNDAY SERVICE - February's Theme: THE POWER OF LOVE Rev. Tina Brown

FEB 4 ARMED FOR BATTLE OR OPEN TO LOVE?
Loving one's self is key to living an authentic life. Do you mask your true self by trying to be something you are not? This message is an opening to the truth of who you are and the power of demonstrating the authentic self.
FEB 18 THE CHALICE OF LOVE
Quench the thirsting of the soul with the power of God's Love. Establishing an intimate relationship with the Divine presence of Love…God, is of utmost importance for our spiritual growth and development. Extending that Love to one another, creates an exchange that causes our "cup to runneth over."
FEB 25 PUTTING ON THE WHOLE AMOUR OF GOD
What is the amour of God? A-Attributes of God expressing, M-Master over one's life, O-Omnipotent Power expressing through each of us, U-Unity of Spirit in the world, R-Righteous judgment, in other words, Right Thinking. Do you love the world the way it is? Every thought and every action have a direct impact in the world. We are called to be a Presence of Love in the world.
SPECIAL ACTIVITIES:

Highlighting Victoria Benoit, MC, healer, speaker and bestselling author: BOOK SIGNING EVENT AND WORKSHOP Sat. Feb. 24, 10:30-1:30 PM. Fee: $20-30 Love offering at Inspirational Unity Church. Book title: WHAT WOULD LOVE DO RIGHT NOW?
RSVP inspirationalunitychurch@gmail.com, Phone: 501 231-6027 Rev. Tina Brown

Please go to the COURSES Link above - For information on Spiritual Education and Enrichment - "S.E.E." classes starting in February at Unity of Mesa.
Please go to the SPECIAL EVENTS Link above - For information on special activities planned for Inspirational Unity patrons and guests. We have wonderful activities available to you.